How to pick out your ideal Fish surfboard
Thinking of ordering your fish surfboard, but not sure where to start? Let's go then.
Fish surfboards emerged in the 1970s and since then, have undergone numerous variations. As their popularity remains high to this day, it's natural for people to be unsure about which type of fish surfboard to choose and what the differences are between these board variations.
Different types of fish surfboards
Retro fish surfboard, a brief introduction
Eternally popularized for its deep and wide swallow tail, the original fish surfboards from the 1970s have remained alive to this day, even becoming quite popular in modern times, especially among a large number of surfers and famous freesurfers who seek to ride a board different from traditional thrusters.
But what does a retro fish surfboard look like?
Initially designed to be ridden as a kneeboard by its inventor Steve Lis, these boards ended up drawing attention due to their unique shape, compact size, the speed they generate, and the fact that they have wide twin fins, as known as keel fins.
Steve Lis in 1973 with one of his first models  — Credit: Bolster
Steves Lis drawings (early '70s) — Credit: Unknown
But in order for these boards to be functional and versatile in today's days, they had to undergo some modifications, not so much in their outline, but rather in the rocker, rails, bottom, positioning, and angle of the fins. Nowadays, a good retro fish shaper needs to know how to work with the limitations and advantages of this board, especially when developing them to be functional.
Our retro fish models: Classic Twin, Quad Fever, and Curvalicious are designed to be highly versatile and maneuverable, ideal for weak to medium strength waves with fuller walls. They are great boards for traditional maneuvers and even more modern ones.
However, since they are boards with low rocker and wide tail, they are not considered ideal for tubular waves or waves with a lot of power.
Difference between retro fish twin fin and quad fin.
The twin fin fish with Keel Fin template provides a more traditional and 'locked-in' surfing experience compared to the quad fin fish. This is because water pressure flows more easily between the spaces of the fins in a quad fin setup than in Keel Fin (twin fin) setup, resulting in the quad fin fish having a more high-performance and 'loose' surfing style compared to the twin fin fish. However, the Keel Fin fish provides slightly more drive and propulsion than the quad fin, as the larger surface area of the fin helps to accumulate pressure.
Modern fish surfboards emerged in the 1990s, specifically between 1995 and 1997, with the Round Nose Fish by Lost Surfboards. These boards were small with a wide nose, narrow tail, and twin fins. Their surfing style resembled the conventional and modern boards of that time, but with a never-before-seen appearance for that period.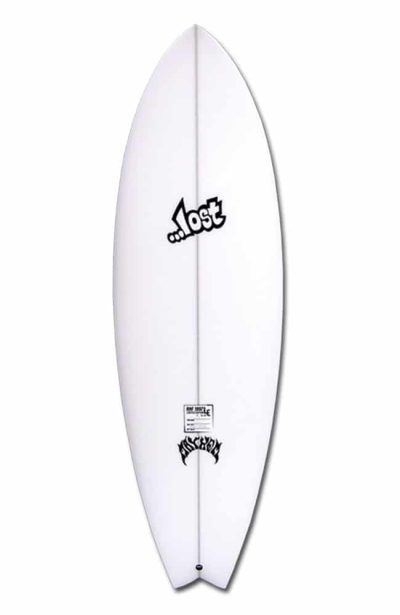 In the movie '5'5″ X 19 1/4″', which popularized the fish surfboard in that decade and featured Chris Ward and Cory Lopez, they can be seen using this type of board in various wave conditions on the North Shore of Hawaii. This helped break the paradigm that only large boards worked in bigger waves. In fact, in the following years, surfers began to reduce the size of their boards.
Over the years, the outline of the board changed and became more distributed by adding more tail area. This change improved the board's projection in waves with less power, and the addition of a wing helped break the outline by narrowing the tail, providing greater agility for executing quick and vertical maneuvers.
The end result was an excellent board for small waves that also performs well in stronger waves.
And that's exactly what we tried to bring to our modern fish model called the Modern Fish.
How to choose the ideal size for a fish surfboard
For beginners, it's recommended to surf a board up to 6 and 12 inches taller compared to the surfer's height.
For intermediate and advanced surfers, we recommend surfing these boards 3 to 5 inches smaller than your height and adding 2-5 liters more than your normal shortboard.
Differences between modern and retro fish surfboards
The two styles of fish boards appear to be quite similar, but the retro fish board is wider and has a straighter rocker compared to the modern one. Therefore, they are easy boards to get into the wave with and ideal for practicing a more relaxed surfing style. On the other hand, the modern fish board is narrower and has a more pronounced rocker, which makes it highly performance-oriented and maneuverable. Its surfing style closely resembles that of current performance boards.
Fish Surfboard in PU or EPS/XPS (Epoxy)?
Surfboards made with polyurethane blanks are laminated using polyester resin, and surfboards with an EPS or XPS blanks are laminated with epoxy resin.
For an authentic experience with retro fish boards, it is advisable to use a PU foam blank as it is heavier and provides a more predictable feel underfoot. This weight will further contribute to a surfing style focused on smooth, relaxed lines.
EPS/XPS blanks are less dense and lighter than PU blanks, resulting in agile and responsive boards underfoot. They are a good option for modern fish boards and work very well in smaller, less powerful waves.
Where to buy the best fish surfboard.
When it comes to ordering a fish, we always recommend talking to a shaper so that they can help you figure out which board is best suited to your body type and surf level. We, at 1974 Surfboards, would love to assist you. Just get in touch!
Want to surf with a board that makes it easier to catch waves, has lots of drive, speed, and great for a relaxed fluid surfing experience?
Pick the Retro Fish.
Want a board with good buoyancy for smaller weaker waves but without letting go of the agility of a performance board?
Pick our Modern Fish model.
Are you starting out and want a board that's not a log? Or want to transition from a longboard to a shortboard?
Pick our mid-length fish.
Still, got some questions? Ask our shaper whatever you want, we will be glad to help!